Parlux, protagonist again at the MCB by Beauty in Paris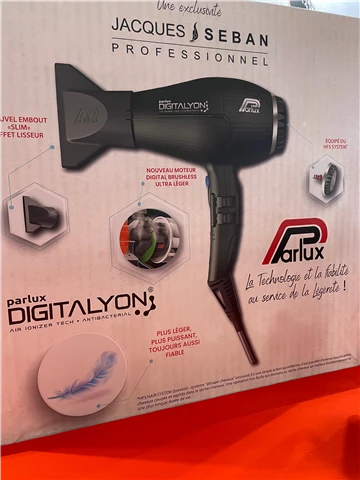 A great opportunity to present to the French and International public the new 2022 Parlux hairdryer: Parlux DIGITALYON®
From Sept. 10th to 12th, The Porte de Versailles Paris' fair premises hosted one of the most annual international trade fairs in the hair and beauty industry, MCB by Beauty.
Famous and expected meeting point for professionals and hairstylists coming also from different countries, this event hosted in the commercial area many exhibitors (this year over 300!) showing important product trademarks and accessories in the hair, beauty, make-up and nail art industry while, in the artistic area, presented hairstyling live shows and practical demonstrations to be able to create trendy hairstyles. Moreover, the unmissable "Hair World competition" organized by the Organisation Mondiale de la Coiffure and the "INNOVATION Award MCB" whose two awards, one for the best innovative product and one for the newest useful hair salon service or technique were awarded.
The Parlux booth, well-known trademark by any visitors and above all by professionals and organized by Jacques Seban, Parlux distributor for France, has been the unmissable stopping point to attend the special presentation of the new 2022 hairdryer, Parlux DIGITALYON®; the first with professional digital motor made by the famous Italian producer.
At the Parlux booth, different hairstylists on the stage showed their personal and creative hairstyles using the new Parlux DIGITALYON® in both colors, "Silver" e "Anthracite".
The new Parlux digital hairdryer is a very light professional tool, coming from the digital technology, assuring superior performances, extreme power and lightweight and is able to satisfy any hair salon need. Beside the digital motor, it presents a new "wave" resistance distributing a constant and uniform heat allowing for very quick dryings with consequent energy saving.
Among its other technical features, the indispensabile "Air Ionizer Tech" for ionic technology and the "HFS" hair catching system, a device which mounted on the hairdryer intake catches the hair and permit to maintain the hairdryer clean and efficient for a better efficaciousness over time. The new SLIM nozzle "plate effect" is also very interesting and has been created to make the hair straightening easy and simple in just a few simple steps.